EduCluster Finland Expert Blog
Promoting Inclusive Learning
By Heli Parhiala, 17 May 2021
Inclusive Education has become a major focus of educational improvement in key countries globally over the past 20 years. Finland has worked intensively on inclusion since the 1980s. The terminology around the word inclusion is understood in sometimes different ways in different countries. In Finnish approach promoting inclusion in learning means that students are seen as unique individuals, coming from different backgrounds with different abilities, attitudes and knowledge. The school community has the obligation of guiding students during their school path to achieve their full learning potential, in a safe and child-appropriate learning environment. Every student's needs are met by adjusting school culture, instruction, and learning accordingly. When the need for individual pedagogical solutions, guidance, and additional support measures arises, immediate steps are taken to investigate and improve the situation, and each student's right to support is safeguarded. Importance is placed on searching for solutions that enable all students to learn together.
In Finland student support is organised and implemented through three-tiered support model: General support, Intensified Support and Special Support. It is useful to think of the model as a pyramid. All students are at one of the tiers. The majority of students are in the general support tier at the base of the pyramid, while a small number of students require intensified or special support. All the tiers of the support model are provided through flexible arrangements at a mainstream school close to the child's home. The line between special education and mainstream education is blurred due to the three-tiered support model, and as the flexibility in giving support increases, the stigma associated with the need for support is diminishing. Early intervention and sufficient support are cornerstones of Finnish education.  According to the National Core Curriculum everyone is entitled to general support which is seen as a natural part of everyday teaching and learning processes. For instance, about 30 % of all learners get individual support and guidance through part-time special education, even when students are at the general support tier.
In recent years, schools are expected to welcome students with differing abilities, and teachers around the world have started to recognise the need to develop their expertise in inclusive education. In 2018 OECD TALIS report, teaching students with special educational needs was identified as the area in which teachers expressed the highest need for professional development. In addition to the professionalism of the teachers, the school's operating culture, instructional arrangements, and attitudinal atmosphere are also crucial to the success of inclusion.
To summarise, the school which promotes inclusive learning
has an operating culture enabling all students to reach their full potential
values the importance of individualised learning and teaching​ practices
is proactive in identifying the early signs of students' support needs
provides preventive methods and properly timed support
develops teachers' competences on inclusive teaching practices
All students should be given learning challenges according to their own level. The joy of learning and positive learning experiences motivate students and enhance their positive self-image as independent learners.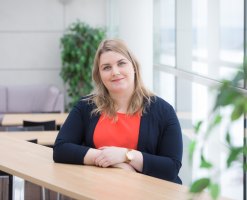 Lead Expert Heli Parhiala (MA) is an experienced teacher and educator with an explicit view of the cornerstones of Finnish educational system from a practical point of view. Her main areas of expertise are developing and evaluating special education needs teaching in preschool and primary education.